DKworking partially working and non working skills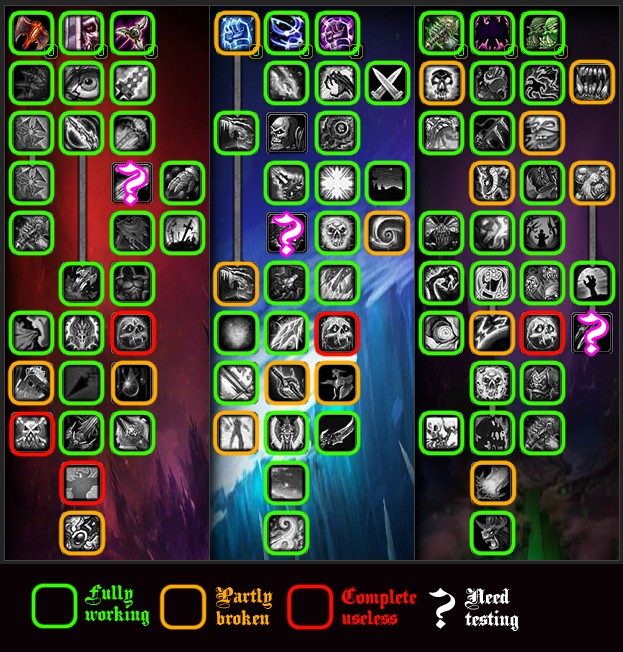 Problem about the partly working talents:
Unholy
Epidemic: With fully specced unholy, this talent spread out the 15 second dot damage to 21 seconds, so each tick damage is reduced.
Ravenous dead: No pet scaling
Corpse explosion: Only works on your own live pet.
On a pale horse: Does not reduce stun duration.
Night of the dead: Does not reduce AOE damage taken.
Anti magic zone: Only apply to yourself, does not work in party nor raid.
Rage of rivendare: Does not increase expertise.
----------------------------------
Frost
Imp icy touch: Does not reduce attack speed
Deathchill: Removed by chain of ice and hungering cold which do not do any damage
Imp icy talons: Only apply the buff when you apply a new frost fever.
Blood of the north: 60% chance to apply death rune instead of 100%.
Unbreakable armor: Does not reduce damage taken.
Acclimation: Applied with heals which prevent other magic schools being applied.
----------------------------------
Blood
Imp death strike: Only the 30% damage part is working.
Vampire blood: Does not increase healing taken, buff removed randomly, which lowers your total HP below its normal rate when the buff runs out.
Dancing rune weapon: The 50% damage reduced by armor the 2nd time, which reduce the damage to 25%.